We are currently training people from various countries for online training from USA ( Texas, Wisconsin, Atlanta, Florida), UK ( London, Derbhishire), Dublin(Ireland), South Africa, Saudi Arabia, Nigeria, Syreia, Bangaldesh, Nepal, Srilanka.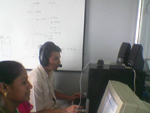 Online Mobile Phone Repair Course :
The course duration is 50 hours off online classes. The notes will be sending by email. Explanation is through online audio & video support using MSN or Yahoo. These 50 hours off classes can be taken anytime in 3 months time plus one year free email support for any repair problems.
The course fees is 300 us dollars (or its equivalent Indian rupees) which can be paid by western union or money gram money transfers.
ONLINE MOTHER BOARD REPAIR COURSE :
The course duration is 60 Hours of online classes taken any time in 3 months .Then notes will be sent by email. Audio visual trainings through video conference using chat based support software.
The course fees is US DOLLORS or its equivalent Indian rupees only.
Do u want to order for the course CDs then .please make the payment.
Through Your Credit Or Debit Card Using The Paypal Gate Way.
If you are looking for other types of training, check out the training-classes.com directory of engineering training seminars